Euro Foot Activators
Our Smallest Foot Activator Lets You Leave the Water Running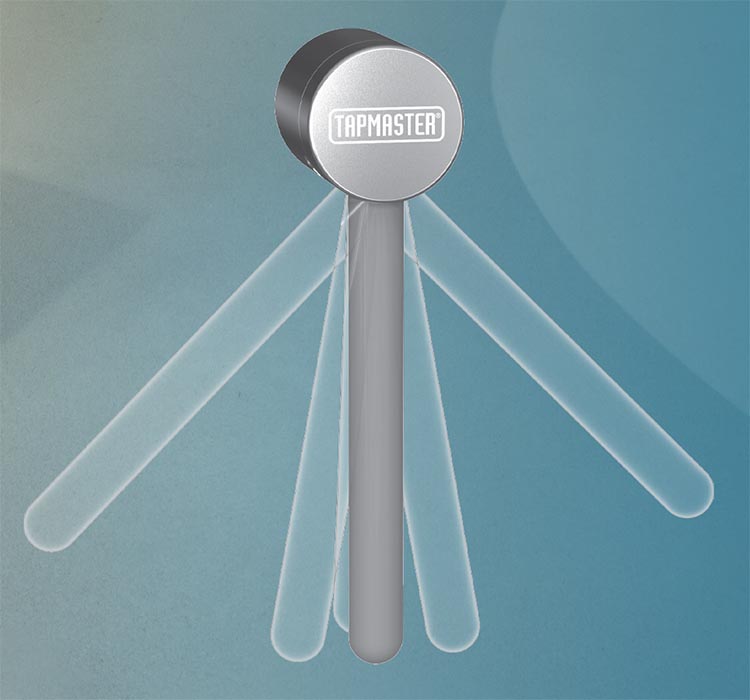 How They Work
Tapmaster Euro-style foot activators are installed on the toe kick and are activated by tapping the probe in any direction. To leave the water running or use your faucet like normal – press the probe directly left or right until you feel a click! When you want to turn the water off, just snap the probe back to the center position with your foot. It's easier than it sounds!
Tapmaster Euro probes are made of a soft and flexible rubber compound that is easy on the feet and extremely durable. The main body of the activator is constructed of solid brushed nickel plated brass.
Common Questions
Do I Have to Leave My Faucet Handles Open?
Yes. Tapmaster valves install between the water shut-off valves (ball stops) and the faucet itself. If the faucet is closed, the Tapmaster valve will open but the faucet itself will prevent the water from running.
I Have a Very Tall/Very Short Toe-Kick, Will it Fit?
Our Euro activators are perfect for use on toe-kicks from 3″ tall up to 12″ tall. The probe itself is cut to length during the installation to make sure you get a perfect fit every time.
Can I Leave the Water Running?
Absolutely! The Euro activator was designed with this in mind. Simply push the probe directly to the left or right with your foot until you feel a click and the water will remain running until you want it to stop.
How Do I Control the Temperature?
The current Euro activator does not directly control temperature. You set the temperature at the faucet and the Tapmaster controls when the water turns on and off.
However, when combined with another activator like the cabinet door activator temperature control can be achieved. If you are interested in this please contact us for more information.
Pressure
Operating: 0-125psi (862kpa)
Static Burst: 700psi (4830kpa)
Flow

7.2gpm @ 60psi (27.01m³ @ 4 bar)

Connections
Inlet: Integrated 3/8″ compression nut "O" ring seal
Outlet: Nut and Sleeve 3/8″
Filtration
Main Flow: 0.06″ (1.5mm)
Control Circuit: 25 micron
Construction
Valve Bodies: Chrome Plated Brass
Activator Housing: Brushed Nickel Plated Brass
Activator Internals: Stainless steel
Activator Probe: Polyurethane
Seals: Silicone and E.P.D.M.
Control Tubing: proprietary high density polyurethane
Dimensions
Main Valve Blocks: 2.5″ x 0.88″ x 1.25″ (6.35 x 2.24 x 3.18 cm)
Activator Valve: 0.63″ x 0.63″ x 1.0″ (1.60 x 1.60 x 2.54 cm)
Activator Housing: 1.19″w x 3.0″h x 1.37″d (3.00 x 7.62 x 3.5cm)
Installation Instructions and Submittal Documents
Try Tapmaster Now
If you want the most versatile and reliable hands-free faucets on the market today, click below to buy now! If you want more information send us a chat or visit our contact page.