In-Floor Activators
Commercial Grade Foot Control | Temperature Selection Option
How They Work
Tapmaster in-floor activators are installed directly into the floor by drilling a hole for the activator tubing to run through or with one of our surface mount kits. The in-floor activation plate is electropolished stainless steel with a solid stainless-steel base. When we designed the in-floor activator we had hospitals, food processing facilities and commercial washrooms in mind. When installed, the in-floor activator can withstand 7500lbs of force without damage and is intended to be cleaned with commercial floor polishing equipment.
The pressure plate flexes 0.5mm (0.02″) and only requires 3.5kg (~8lbs) of force to activate. The design is intuitive even for people who have never seen a foot-operated faucet before.
When paired with a basic spout, the Tapmaster in-floor activator is the perfect commercial hands-free faucet system. It is vandal resistant, requires no ongoing maintenance and provides a perfect seal against the floor to prevent dirt buildup.
Common Questions
Do I Have to Leave My Faucet Handles Open?
Yes. Tapmaster valves install between the water shut-off valves (ball stops) and the faucet itself. If the faucet is closed, the Tapmaster valve will open but the faucet itself will prevent the water from running.
I Have a Concrete Slab Floor, Can I Install it?
Yes, concrete slab flooring must have a pocket chipped out for the activator assembly and a channel cut for the control tubing. Any commercial flooring company can quote on this.
Can I Leave the Water Running?
The Tapmaster in-floor activators were designed with commercial handwashing in mind. To meet commercial standards for automatic shut-off faucets the in-floor activator was designed to prevent water from running unattended.
How Do I Control the Temperature?
If you wish to have hands-free water temperature control you must order the 1786 model in-floor activator that allows for hot/warm/cold operation.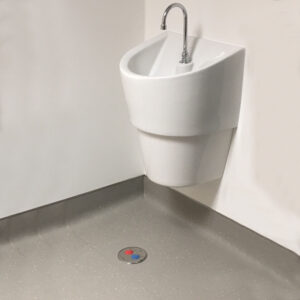 Pressure
Operating: 0-125psi (862kpa)
Static Burst: 700psi (4830kpa)
Flow

7.2gpm @ 60psi (27.01m³ @ 4 bar)

Connections
Inlet: Integrated 3/8″ compression nut "O" ring seal
Outlet: Nut and Sleeve 3/8″
Filtration
Main Flow: 0.06″ (1.5mm)
Control Circuit: 25 micron
Construction
Valve Bodies: Chrome Plated Brass
Activator Housing: electroplated stainless steel
Activator Base: stainlees steel
Temperature bumps (1786): Anti-microbial polyurethane
Mounting: Rubber gasket with stainless steel anti-tamper screws
Seals: Silicone and E.P.D.M.
Control Tubing: proprietary high density polyurethane
Dimensions
Main Valve Blocks: 2.5″ x 0.88″ x 1.25″ (6.35 x 2.24 x 3.18 cm)
Activator Valve: 0.63″ x 0.63″ x 1.0″ (1.60 x 1.60 x 2.54 cm)
Kick Pedal: 8.00″w x 3.47″h x 1.15″d (2.09 x 8.80 x 2.90cm)
Installation Instructions and Submittal Documents
Installation Instructions (PDF)
Submittal – Model 1780/1781/1782 & 1784 In-floor activators (PDF)
Submittal – Model 1786 In-floor activators with temp control (PDF)
Try Tapmaster Now
If you want the most versatile and reliable hands-free faucets on the market today, click below to buy now! If you want more information send us a chat or visit our contact page.